Washington 211 is more than just a call center or information and referrals. Throughout Washington State, WA211 connects people to help when they need it, builds community resilience, and advocates for breaking cycles of need. Washington 211 partners with community based organizations, state and local government, local communities and even business to identify and break cycles of need, prepare and respond to emergencies and look at opportunities to create innovation to address complex issues. If you are interested in learning more about statewide projects and initiatives of Washington 211 explore them below.

Washington 211 partnered with the Greater Columbia Accountable Communities of Health, in early 2020, on a project to improve the way Washington Residents search for health and human services on our website.The Greater Columbia ACH's mission is to advance the health of our population by decreasing health disparities, improving efficiency of health care delivery, and…
Read Full Article
Social Determinants of Health - Pathways HUB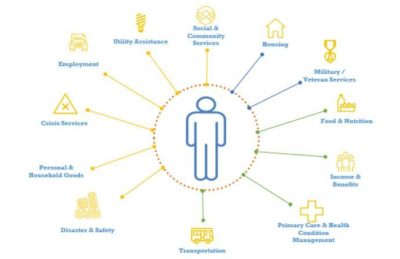 Today, many health experts promote the importance of identifying and linking patients to the Social Determinants of Health (SDOH) to improve health outcomes. SDOH are conditions in the environments in which people are born, live, learn, work, play, worship, and age that affect a wide range of health, functioning, and quality-of-life outcomes and risks. In other words, if patients have unmet needs for food, housing and other social services they are less able to effectively manage their health conditions and experience poor health outcomes.
Washington 211 has partnered with several regional Accountable Communities of Health across the state who are using the Pathways Hub model to provide care coordination. The Pathways HUB acts as a central clearing house that registers and tracks at-risk individuals, making sure their health – both physical and behavioral – and social needs are identified and addressed. Upon enrollment in the Hub every client meets with a community health worker (CHW), who completes a comprehensive risk assessment. Each risk is translated into a "pathway," including unmet needs for food, housing and other social services. Risks are addressed one at a time, with clients helping to determine priorities. Pathways are tracked through completion of an electronic record in a shared health information database.
By leveraging 211 resource data the Pathway's HUB enhances care coordination and facilitates the ability of health providers and community based organizations to work collaboratively to deliver evidence-based interventions with a focus on prevention and early treatment leading to improved outcomes and reduced healthcare costs.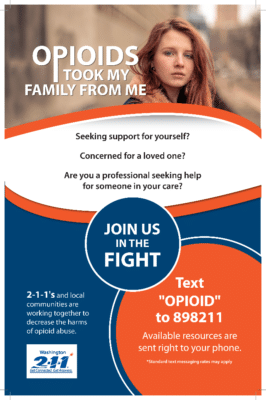 You probably have heard, seen or experienced the impacts of the Opioid Crisis in America, which is recognized as a national health crisis. Many innovative strategies have been implemented to address this issue including the use of texting. The 2017 American Journal of Preventive Medicine reported: "Text message interventions are capable of producing positive change in preventive health behaviors. Preliminary evidence indicates that these effects can be maintained after the intervention stops."
Washington 211 in partnership with the 211 National Text Platform, has implemented a unique program that uses text messaging to connect people to local resources and provides ongoing supportive messaging. The National Text Platform provides SMS/texting automation with integrated referral data and guides for individuals who opt-in by texting the word "Opioid" to 898211.
After completing a series of automated questions to assess what information would be best, adaptive automated text tracks do the initial intake and depending on the encounter offers 4 distinct paths (General Information, For those seeking information for someone they are concerned about, For those seeking information for themselves as someone using, or A treatment provider seeking community supports for their patients) with links to local, state and national information and referrals through Washington 211's resource database. Once opted in, users enter into a 130 day supportive messaging campaign, where they will receive encouraging messages, quotes, advice and links to additional resources.
Washington 211 was one of eleven state 211 systems selected to pilot this new service and has been partnering since July 1, 2018 with the North Central Accountable Communities of Health to provide this service in Chelan, Douglas, Okanogan and Grant Counties. As of June 30 2019, 140 contacts for assistance have been made through the 211 Text Platform.
If you would like to learn more about this service and how it can be implemented in your community, contact Tim Sullivan, WA211 Director, at tsullivan@pfp.org.
Washington State Department of Commerce – Earned Income Tax Credit (EITC)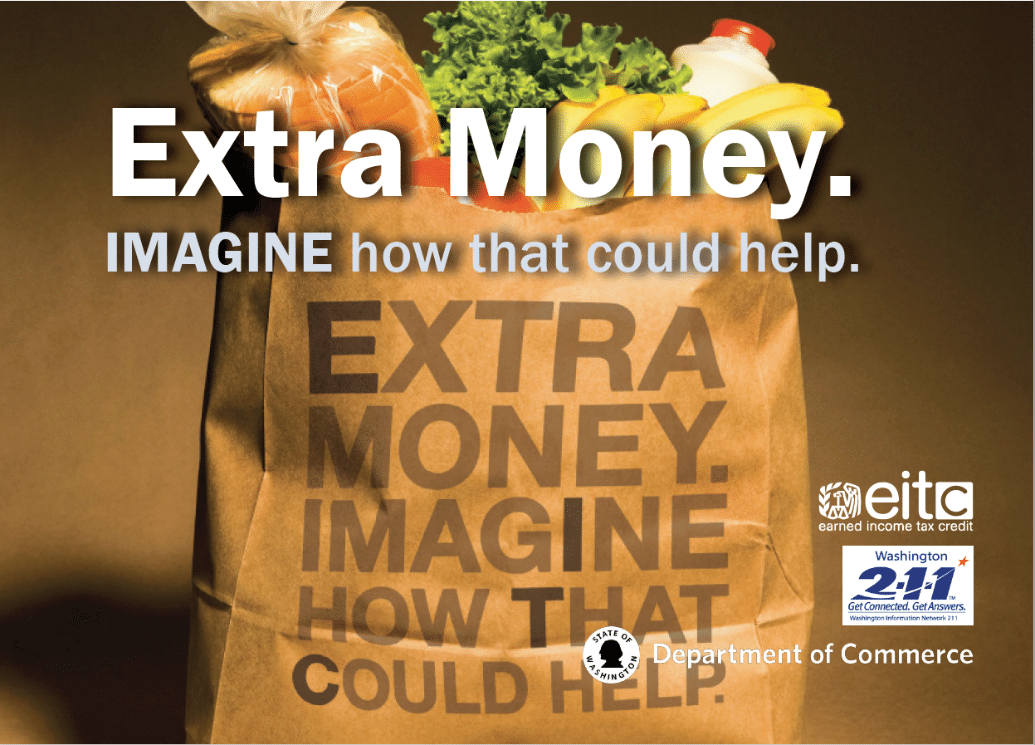 For people who work and earn between $1 and $54,884 they may be eligible for the Earned Income Tax Credit (EITC) when filing their tax returns. According the IRS, 25 million eligible workers and families received $63 billion in EITC benefits in 2018, an average of $2,488 per household. Washington State had 407,000 people file for the EITC credit last year, claiming over $803 million in refunds, an average of $2,194, which goes back into supporting the State's economy.
Since 2006, Washington 211 has partnered with the Washington State Department of Commerce to promote the EITC benefit and direct residents to free Volunteer Income Tax Assistance (VITA) sites in their communities. Washington 211 Resource Specialists enter and maintain VITA, AARP and other free tax filing site listings in the statewide 211 database during tax season. 211 Information & Referral Specialists taking calls from persons seeking tax assistance promote the EITC benefit when referring callers to local free tax preparation services or to online resources as the My Free Taxes website. In 2018, Washington 211 handled 7,317 calls for tax assistance.
Department of Social and Health Services – Washington State Basic Food Program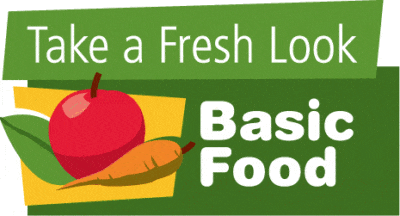 Are you in need of food assistance? Washington 211 is taking applications for the Supplemental Nutritional Assistance Program (SNAP). SNAP also known as Basic Food in Washington State, is a United States Department of Agriculture program that helps eligible households make ends meet and improve their diet.
Through a partnership with the Washington State Department of Social and Health Services (DSHS) who administers the State Basic Food program, Washington residents can simply dial the number 211 and connect to a Washington 211 Information and Referral Specialist to get answers to Basic Food eligibility questions or receive assistance in completing a Basic Food Application or recertification review over the phone. Applications are then submitted to DSHS for final processing.